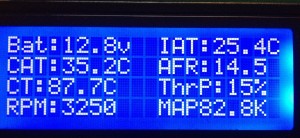 Built for the Autronic SM4 vehicle ECU, this unit displays relevant information on a 20×4 line LCD, 5″ or 7″ TFT Touchscreen display without having to have a laptop in your car.
Serial data is provided by the Autronic serial cable, and information is displayed on the LCD.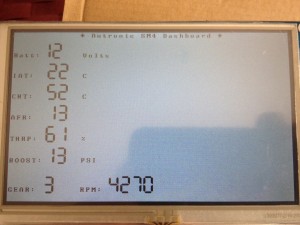 Example data that can be displayed;
Battery Voltage 12.5v
Coolant Temp 65.5C
Charge Temp 45.0C
Intake Air Temp 25.0C
Vehicle Speed 120km/h
Throttle Position 50%
AFR 14.7
Engine RPM 5100RPM
Check the following datasheet specification from MRM Racing that explains all available data that is available. Serial Dashboard for Autronic ECU, Datastream 1.09 http://www.mrm-racing.se/bag/SM4109datastream.pdf
The SM4 ECU needs to have the O/P Datastream enabled under Menu M6
Units will be available for purchase in due course.